Strategy in Competitive Markets
Strategy in Competitive Markets
Companies today operate in a fast-paced, highly unpredictable business environment, where innovation and entrepreneurial approaches are rewarded. In such an environment, owning a unique position in the marketplace can often mean the difference between success and failure.
This program is led by top thought leader in strategy, innovation and entrepreneurship, Berkeley Haas professor Toby Stuart. It uses a unique blend of theory, practice and case studies to promote a thorough understanding of competitive strategy and innovation.
Understand the World of Corporate Entrepreneurship
Learn and apply core frameworks in corporate entrepreneurship and innovation to drive your business success.
Acquire the Latest Competitive Analysis & Design Tools
Learn how to assess the competitive landscape in your industry, analyze your strategic position, apply strategic value curves, and design for a competitive corporate advantage.
Learn Business Model Design & Repositioning Techniques
Learn how to apply business model design and repositioning strategies to establish a unique position within the marketplace.
Design a Business Model for New Growth
Create a successful business strategy for your organization by using data and evidence from theory and case studies.
Harness Emerging Technologies for Innovation
Understand how emerging technologies can help you reimagine your strategy and gain a competitive edge.
Three-day in-person, strategy deep-dive at UC Berkeley Haas School of Business campus 
World-renowned Berkeley Haas and Executive Education Faculty 
Discussions with top innovation thought leaders and high-profile Silicon Valley executives and entrepreneurs from companies like Google and PayPal
Exclusive networking reception with faculty
Access to the program alumni community
Strategy in Competitive Markets Certificate of Completion 
Vice Presidents 
General Managers
Sales and Marketing Executives
Finance Executives
Operations Executives
Any position impacting company strategy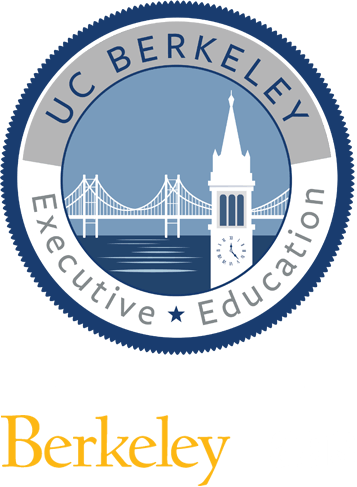 This program counts toward a
Certificate of Business Excellence
Pillar(s)
Strategy & Management or
Finance & Business Acumen
A UC Berkeley Certificate of Business Excellence gives individuals the opportunity to create a personal plan of study structured by our four academic pillars. Participants will earn a mark of distinction with certification from a world-class university, and enjoy the flexibility of completing the program in up to three years.
"What an outstanding course, the quality of the content, lecturers ... was simply world class. Toby Stuart, in particular, is amazing ... great ability to guide the learning experience in an extremely engaging and challenging fashion."
- Managing Director APJC Data Center, Cisco Systems
"Professor Stuart's engaging style makes the whole experience first class and enables those who attended to immediately apply learning to their day jobs."
- Senior Director of Product Management, Corel Corporation
"The learning experience was further enhanced by the deep class discussions on the forces that shape strategy. If you need to think strategically, this course is a must."
- P.E., President, Texas State Technical College Harlingen
"The University of California Berkeley, Center for Executive Education, has been an outstanding program and resource as I look to emboldened my business knowledge. The program is very challenging but extremely rewarding. To date, I have gained a deeper understanding of competition in Competitive Markets and Financial Analysis as a non-finance professional. The Executive Education program introduces real-world business scenarios which provided me [with] a more strategic perspective as I relate it to my experience, knowledge, and job. Additionally, I've expanded my professional network and made friends with both, professors and students."
- Principal, Pacific Gas & Electric Company
"The course was a great experience (challenging, a tsunami of interesting items, and I experienced a great return on my investment ). I profit (ed) a lot from that. Strongly recommended."
- Head Strategic Marketing, Fraunhofer Heinrich Hertz Institute
Toby E. Stuart
,
Leo Helzel Chair in Entrepreneurship and Innovation, Haas School of Business
Toby E. Stuart is the Helzel Chair in Entrepreneurship, Strategy and Innovation and the Faculty Director of the Lester Center for Entrepreneurship. Previously, he taught at Harvard Business School,...
Abhishek Nagaraj
,
Assistant Professor, Haas School of Business
Abhishek Nagaraj is an Assistant Professor in the Management and Organizations (MORS) group at Berkeley Haas. He earned his PhD in Management at the MIT Sloan School of Management, in the...
Corporate Business Model Innovation
Learn from the leading pioneer in Open Innovation, Henry Chesbrough, and transform your business strategies. Go beyond traditional R&D to learn how to develop, evaluate and scale new business models from the inside out, and embrace and extend the external startup ecosystem. Maximize Innovation Delivery. Create New Business Model Ideas. Explore New Innovation Concepts. Open Innovation and Busin...
Venture Capital Executive Program
Intensive venture capital certificate program delivered online or in-person. Learn VC investing principles, insider strategies, and network with Silicon Valley's VC leaders. The Venture Capital Investing Cycle. Dynamics of Venture Capital Funds. What Constitutes a VC Quality Deal. Silicon Valley Venture Capital Economy. Opportunity Recognition. Corporate Strategy and Financing.  
Have more questions about registration, billing, accommodation, or employer support?