Technology Leadership Program 
Technology Leadership Program 
A six-month learning journey from the convenience of your laptop.
Six-months in total, 4-6 hours per week.
IN PARTNERSHIP WITH EMERITUS
Global partner program with EMERITUS.
In a rapidly changing technology landscape, you need to understand not only the various technologies, but be able to create a cohesive strategy around them. The Berkeley Technology Leadership Program is designed to do just that. Through a dynamic mix of live teaching sessions on critical leadership topics, frameworks, hands-on teaching methods, active program support, and peer learning, you will develop the vision and skill to navigate digital transformation.
Identify the strategies and processes required to lead the implementation of technology to enable significant change and solve problems.
Explore AI application strategies and identify frameworks that help with the practical application of AI-related modeling.
Evaluate the current fintech ecosystem, and how fintech innovations are reinventing traditional banking as well as creating new business models.
Create a pitch deck for how you will lead the implementation of technology to solve an inefficiency within your organization.
Develop and refine your leadership style and communication skills through live sessions and application exercises.
For individuals who are in leadership roles looking to keep their organization ahead of the curve through tech innovations, or who are on career tracks to take on technology leadership roles, including:
C-suite leaders and directors ensuring their organization is prepared for the latest digital trends and disruptions
Functional heads and business leaders with responsibility to drive tech innovation and strategy across their organization
Mid- to senior-level managers and executives gearing up for tech leadership roles
Consultants who need to be up-to-speed on the latest technologies and business applications to offer superior solutions to clients
World-renowned Berkeley Haas and Executive Education Faculty 
Video lectures from Berkeley Haas faculty
Live, interactive webinars (also available as recordings)
Industry guest speakers
Peer discussions and exercises
Case Studies
Capstone Project
Exclusive online network-building opportunities 
Access to the program alumni community 
Technology Leadership Certificate of Completion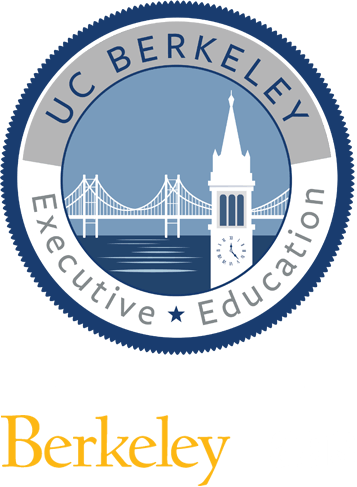 This program counts toward a
Certificate of Business Excellence
Pillar(s)
Strategy & Management or
Entrepreneurship & Innovation
Participants in the Certificate of Business Excellence (COBE) program will earn a mark of distinction from a world-class university, gain access to a powerful global network, and enjoy the flexibility of completing the program in up to three years. A UC Berkeley Certificate of Business Excellence allows individuals to create a personal learning journey structured by our four academic pillars to gain management essentials in Leadership, Entrepreneurship, Strategy, and Finance to drive both personal and organizational development.