Customer Obsessed Design for Product Management
Why do people love their Dyson vacuums more than their Dustbusters?
How did Salesforce quadruple average contract value for key clients while dramatically improving customer satisfaction?
How did Airbnb advance from an inflatable bed in the founder's apartment in 2007 to a $100B valuation in 2020, during a pandemic?
In Customer Obsessed Design for Product Management, the people who make stories like these possible will show you exactly how they do it. It's more than just paying attention to your customers. It is an obsession with understanding your customers' needs.
Using the tools of customer-centric design, ethnography, innovation, and storytelling, you will learn how to conduct successful customer and user interviews, extract important customer insights from those interviews, share those insights with key stakeholders in your company, and galvanize action around those insights. You will learn how transformative customer experiences are created.
Learn How to Conduct Effective Interviews
Using the tools of ethnographic interviewing, you will select subjects, create interview guides, conduct interviews, analyze your performance, learn from your fellow classmates, and then do it again.
Extract Powerful Customer Insights from Interviews
Learn to recognize the gaps between how your customers experience their environment, and how that environment is currently built. Learn to explore needs before jumping to solutions, and to rapidly reframe problems so you are solving the right ones.
Share Insights to Create Trajectory Changing Impact for your Company
Using the tools of storytelling, learn to bring customer insights to life inside your organization in a variety of ways. Shift your organization's perspective from what the customer wants to why they want it. Be less reactive, and enable an aligned, strategic decision-making process.
Create Transformative Customer Experiences
Building on your storytelling skills, learn to imbed customer insights into the product design and planning process so those insights become the default driver of strategic product decisions. Learn tools, like customer-centric roadmapping, to imbed customer insights into existing planning tools and processes you already use.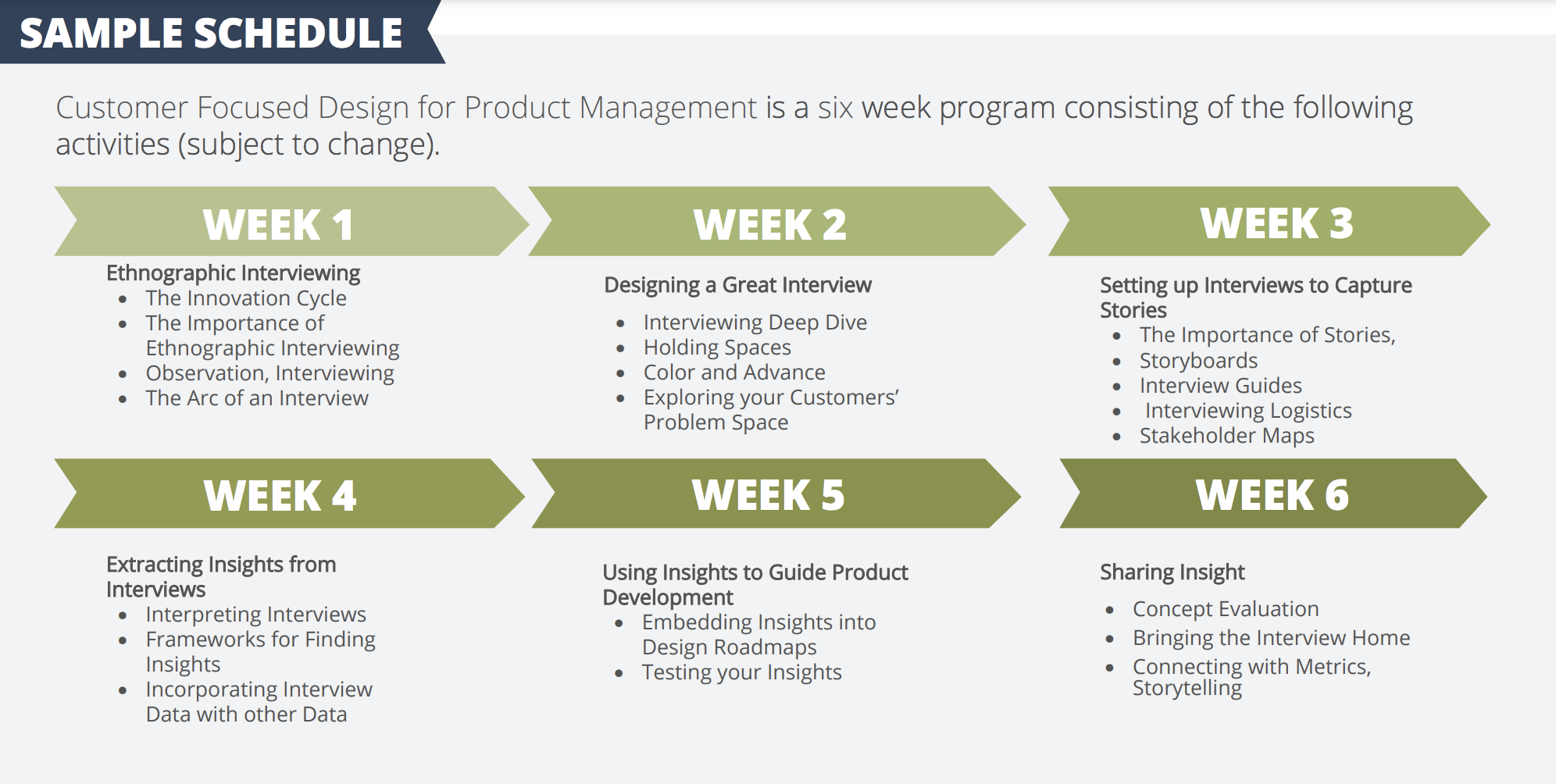 There is pre-work for this program. Refer to the suggested deadline dates for enrollment below. Past this deadline, we enroll on a case-by-case and space-available basis, but please note: late enrollment may impact your experience in the program due to pre-work assignments.
Instruction hours will be live, in real-time, with professors and classmates, held on Thursdays from 9:00 am-12:30 pm PDT, for six weeks.
Before the first live meeting and between live meetings, the program will continue online, with short video lectures, interview examples, class discussions, readings, and field assignments. 
Participatory, active program design, with an emphasis on small group exercises and conversations, and peer coaching with classmates.
Optional faculty coaching sessions held on Wednesdays from 10:30 AM -12:30 pm PDT 
Lab platform 
Exclusive networking opportunities and access to the program alumni community
Customer Obsessed Design for Product Management Certificate of Completion 
Customer Obsessed Design for Product Management was created for product development and product management professionals who want to differentiate from their competitors and create world class customer experiences. This training program is relevant whether your customers are B2B, B2C, within your company, or external to your organization.
Specific job roles that can benefit from attending the program are: 
Product Managers
Product Marketers
Product Designers 
Program Managers
UX Designers
Engineers
Marketing Professionals
Research & Development Professionals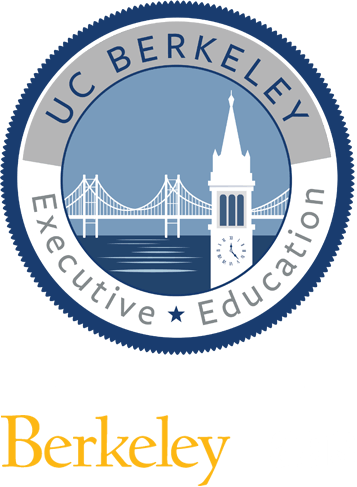 This program counts toward a
Certificate of Business Excellence
Pillar(s)
Strategy & Management or
Entrepreneurship & Innovation
Participants in the Certificate of Business Excellence (COBE) program will earn a mark of distinction from a world-class university, gain access to a powerful global network, and enjoy the flexibility of completing the program in up to three years. A UC Berkeley Certificate of Business Excellence allows individuals to create a personal learning journey structured by our four academic pillars to gain management essentials in Leadership, Entrepreneurship, Strategy, and Finance to drive both personal and organizational development.
"Customer Obsessed Design for Product Management has given me a fresh perspective and a new set of tools I can start using in my role as a product manager. In particular, the strong focus on ethnographic interviewing, sensemaking, and customer-centric roadmapping has helped me structure my work moving forward."
- Senior Director Identity Product Manager, Salesforce
"Customer Obsessed Design was by far the best virtual class I have taken, and only wished more of my teammates had joined me."
- Product Manager, ServiceNow
Sara Beckman
,
Earl F. Cheit Faculty Fellow, Haas School of Business
Sara Beckman is Faculty Director of the Product Management, Product Management Studio, and Customer Obsessed Design programs at Berkeley Executive Education. Sara is an award-winning Haas...
Michael Barry
,
Consulting Assistant Professor, Stanford University
Michael Barry teaches Needfinding and Cross Cultural Design at Stanford University's Design School (d.School). He teaches the nation's top students, at Harvard, Stanford, and UC Berkeley, how to...
Michelle Jia
,
Lecturer, Stanford University
Michelle Jia is a design researcher, and lecturer at Stanford University, where she teaches needfinding and design thinking. She emphasizes real-life qualitative research techniques and leading...
KIM FISHER
Kim Fisher is a former software CEO and Product Management Executive who now focuses on designing courses for, and coaching, Product Managers. She has also led incubators for start-up companies.   
TIM GRAY
Tim Gray is a product management executive with over 20 years of experience in consumer and professional software markets. 
JESSE KULP 
Jesse Kulp works at Google and has been working in UX in one form or another for the better part of the last 17 years, including time at Amazon, Bloomberg and BMC in the cloud monitoring space, along with some time at a few smaller start-ups and design consultancies.  
JAMES MOED
James Moed heads up the design team at Viasat focusing on delivering internet connectivity to rural areas and hard-to-reach populations.  
VIVEK RAO 
Vivek Rao is a lecturer at Berkeley Haas, where he teaches human-centered design, foresight, and innovation methods to MBA and EWMBA students. In addition to his work at Haas, he also teaches graduate and undergraduate courses at UC Berkeley's College of Engineering in the Jacobs Institute for Design Innovation.
ADAM MONSOUR 
Adam Mansour is a user experience researcher at Google, focused on user-centered development of early-stage enterprise products. He currently designs clinician-focused products at Google Health, and has previously worked on Google Cloud, building products for small business recruiters, hiring managers, and jobseekers.