Digital Transformation Strategy
Digital Transformation Strategy
The digital age brings both new business challenges and opportunities for leaders. Companies face continuous shifts in consumer behavior, competition, technology, disruption, and market boundaries, making resilience an increasingly complex challenge regardless of industry.
The Digital Transformation Strategy training program sets the framework for mastering executive leadership in a world of digital disruption and prepares you for what is required to sustain a competitive advantage. Gain a big picture understanding of digital disruption - what is causing disruption and potential consequences of it - to deduce your company's current market position. Learn key change management principles to implement strategic change within your company despite disruption. Advance your digital leadership skills to manage and identify business disruption early so you can strategically pivot and manage complex change rapidly.
Throughout the training program, you will discover the importance of customer value and how to reframe the customer experience for long-term loyalty. You will leave the program with a personalized digital transformation roadmap that outlines a concrete innovation portfolio with key metrics and KPIs for growth as well as a digital marketing plan.
Understand the New Realities and Challenges of Competing in a Digital World
Take a deep dive into the world of digital disruption. Understand its causes and consequences across multiple industries and the new realities and challenges of managing marketing strategies and competing in a digital world.
Grasp the Role of Customer Value in Driving Market Positioning
Help your organization better understand, connect with, and engage the firm's target customers in ways that build enduring customer loyalty.
Identify, Shape, and Capture New Customer Value Opportunities
Deliver relevant and valuable customer experiences to customers and external stakeholders to maintain market relevance.
Assess Your Digital Leadership Capability
Use the Digital Readiness Scorecard to assess your digital marketing readiness and identify the opportunity space for reframing customer experience and customer value.
Examine and Apply New Digital Strategies
Learn the building blocks of an effective digital leadership strategy, how to identify and respond to the risk of value migration, what it takes to deliver differentiated customer experiences, and the role of customer franchise in business success.
Craft Your Digital Transformation Roadmap
Create your digital leadership plan for organizational resilience using new models for understanding, connecting to, and engaging customers digitally.
Build and Manage a Balanced Portfolio
Use your new knowledge and skills to build an innovation portfolio that sustains current success and ensures future market relevance.
Three-day leadership and marketing intensive program at UC Berkeley Haas School of Business campus 
Developed and led by Berkeley Haas faculty & industry experts
Practical frameworks and methodologies for managing the core marketing tasks
Digital Readiness Scorecard/capability
Digital Transformation Roadmap
Exclusive networking reception with faculty
Access to the program alumni community 
Digital Transformation Strategy Certificate of Completion 
Professionals in all areas of marketing, branding, communications, strategy, customer experience, product development and management, operations, IT, finance, organizational design, culture, and human capital.
Senior leaders that are responsible for managing the customer experience during a time of change.
A group of colleagues or team who would like to advance their skills together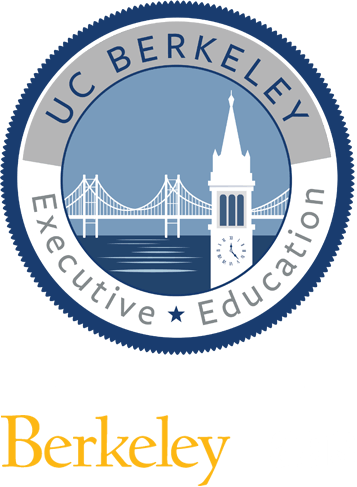 This program counts toward a
Certificate of Business Excellence
Pillar(s)
Strategy & Management or
Entrepreneurship & Innovation
Participants in the Certificate of Business Excellence (COBE) program will earn a mark of distinction from a world-class university, gain access to a powerful global network, and enjoy the flexibility of completing the program in up to three years. A UC Berkeley Certificate of Business Excellence allows individuals to create a personal learning journey structured by our four academic pillars to gain management essentials in Leadership, Entrepreneurship, Strategy, and Finance to drive both personal and organizational development.
"The faculty was amazing and inspiring, always being able to support their strategies will real-life examples and companies that have successfully and truly transformed their business model."
- Director, Sales and Business Development, ECENTA America, Inc.
"The practical insights and detailed work of academic research provided by Professor Gregory La Blanc & Dr. Peter C. Wilton brought so much clarity to some grey areas around how to recognize transformational opportunities, role of big data and building a digital-ready organization."
- Head, Channel Operations, Access Bank Plc, Lagos Nigeria
"After this program you will be able to understand how digital enables your business strategy and customer journey, in order to think "out of the box" and design more effective customer experiencies."
- Human Resources Manager, Banco Pichincha (Peru)
Peter Wilton
,
Senior Lecturer (Continuing), Haas School of Business
Dr. Peter C. Wilton teaches strategy, innovation, digital transformation and marketing in the Haas School of Business, University of California, Berkeley. He has also served as a Visiting...
The Innovative Organization
A fresh take on corporate innovation that prepares managers and leaders to embrace the challenges and opportunities of creating a truly ambidextrous, innovative organization. Tapping into the expertise of distinguished Haas faculty, as well as prominent Silicon Valley executives, this five-day program will inspire and motivate you to truly start building your "innovative organization."   Innovativ...
Corporate Business Model Innovation
Learn from the leading pioneer in Open Innovation, Henry Chesbrough, and transform your business strategies. Go beyond traditional R&D to learn how to develop, evaluate and scale new business models from the inside out, and embrace and extend the external startup ecosystem. Maximize Innovation Delivery. Create New Business Model Ideas. Explore New Innovation Concepts. Open Innovation and Busin...
Financial Data Analysis for Leaders
Demystify finance & accounting in Financial Data Analysis for Leaders. Tell the story behind the numbers. Leave with confidence & data analytics proficiency. Identify and Create New Value. Case-Study Approach. Build Credibility and Contribute More as a Non-Financial Executive. Financial statements and terminology. Financial Analysis Frameworks. 
Have more questions about registration, billing, accommodation, or employer support?