Advanced Executive Presence
Advanced Executive Presence
Learn how to inspire, motivate, and influence people by revealing your beliefs and visions. During this three-day, intensive leadership development program, participants will employ the art of presence and impactful storytelling in small groups while receiving personalized coaching from faculty.
The Advanced Executive Presence program builds on the success of High-Impact Leadership and will prepare you for your Leadership Stage. See how these two programs complement each other.
Master the "All Hands" Meeting
Learn what it takes to deliver a team meeting that touches the minds and hearts of an audience.
Develop Your Unique Executive Presence
Hone your unique leadership and communication style so you can be at your best no matter the situation.
Employ the Art of Giving and Receiving Constructive Feedback
Learn how to give feedback in a way that will be well-received as well as take (and use) others' feedback.
Share Your Passion and Vision Through Inspirational Storytelling
Understand the elements of an engaging story and learn how to construct yours for greater impact.
Build Valuable Relationships In and Out of Your Organization
Use your new leadership presence and communications skills to connect with other people in new ways.
Tailor Your Communications Style For the Global Stage
Use cultural sensitivity and other frameworks to avoid communication errors and make a positive impression anywhere you go.
Three-day leadership intensive program at UC Berkeley Haas School of Business campus 
World-renowned Berkeley Haas and Executive Education Faculty 
Former professional actor Mark Rittenberg
Practical application
Highly interactive environment 
Exclusive networking reception with faculty
Access to the program alumni community 
Advanced Executive Presence Certificate of Completion 
Senior Executives
Directors
Vice Presidents
C-Suite Executives
Senior Managers
Individuals moving into a management role
Entrepreneurs pitching to investors
A group of colleagues or team who would like to advance their skills together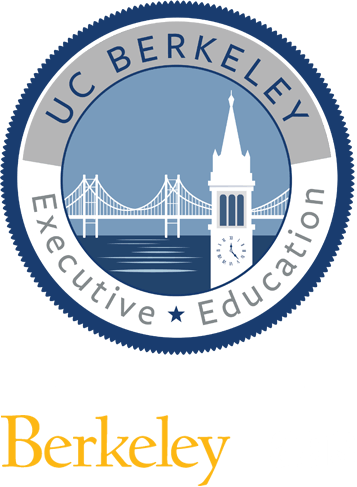 This program counts toward a
Certificate of Business Excellence
Pillar(s)
Leadership & Communication
A UC Berkeley Certificate of Business Excellence gives individuals the opportunity to create a personal plan of study structured by our four academic pillars. Participants will earn a mark of distinction with certification from a world-class university, and enjoy the flexibility of completing the program in up to three years.
"This is one of the best things that has ever happened to me...I always used to wonder how to engage an audience and this program taught me that."
- Senior Member of Technical Staff, Salesforce
"The focus on authenticity, vulnerability, and building genuine human connections is absolutely unparalleled in other courses of this nature. Kudos to the faculty for designing a course in line with where the modern workplace is headed!"
- Principal Engineer, Salesforce
"This course exceeded my expectations. The practical application of the program was immediate. I delivered my best Town hall just two week after the course by focusing on learnings from the class."
- Head of Growth, Salesforce
"Yes, it did, I am very proud that I attended such a successful program at UC Berkeley Executive Education. And I am excited at the thought of what I can achieve at my work after attending this excellent program.
It was a gratifying honor to attend with Dr. Mark Rittenberg, Doy Charnsupharindr, Susan Houlihan and Ariela Morgenstern who contributed to the success of the program. This is an excellent program to help you through your journey to becoming a true leader."
- Director at the Office of VP for Management & Transformation, The American University in Cairo
Mark Rittenberg
,
Distinguished Teaching Fellow, Haas School of Business
For over twenty years, Dr. Mark Rittenberg has helped organizations create communities of excellence among their people and empowered individuals to become true leaders with the ability to actualize...
Doy Charnsupharindr
,
Continuing Professional Faculty, Haas School of Business
Doy is an executive coach and an instructor of leadership courses, focusing on authentic leadership, presence, communication, storytCharnsupharindrelling and impactful presentations. He coaches...
Susan Houlihan
,
Professional Faculty, Haas School of Faculty
Susan Houlihan is a communications consultant, executive coach, and electrical engineer who leverages her 15+ years working in engineering and operations in the high-tech sector to bring a...
High-Impact Leadership
A high-impact leadership training. Motivate, influence by mastering your unique leadership style through theater techniques, role-playing & personal coaching.   Gain Greater Influence. Transform Your Communication Weaknesses into Strengths. Build Meaningful Relationships and Partnerships. Master Your Leadership Presence. The Art of Leadership Presence.  
Communications Excellence
Develop executive communications excellence. Master your personal style to engage & persuade your audience. Develop a leadership presence to make an impact.  
Negotiation and Influence
Learn how to influence, build your confidence, and become a successful negotiator in this three-day program. The Negotiation and Influence program is an intensive, interactive three-day program that will help you develop strategies to effectively plan and prepare for negotiations, and show you how to increase your power and influence while maintaining positive relationships. Through a series of ch...
Have more questions about registration, billing, accommodation, or employer support?