Corporate Business Model Innovation
Corporate Business Model Innovation
You've likely heard of open innovation, lean startup, and innovation management, but do you know how to successfully leverage them? Go beyond the buzzwords in Corporate Business Model Innovation to transform your innovation process and get breakthrough products to market with unparalleled speed and efficiency.
The innovation training serves as a catalyst for business leaders to master innovation strategy and drive continuous competitive value for their company. Throughout the program, you will dive deeply into developing, evaluating, and scaling new business models. Embracing a lean startup mindset, you will ultimately design a personalized innovation integration plan for your business. Professor Henry Chesbrough, 'The Father of Open Innovation', will provide you with the crucial guidance to leave this program with a lean, go-to-market plan for your company that details specific corporate innovation strategies that address challenges and opportunities you may face within your organization.
Strengthen your understanding of innovation management through hands-on case studies and pragmatic exercises during the training. At the conclusion of the program, you will advance your confidence and skills to employ innovative business ideas despite the inevitable barriers you will face.
Discover New Innovation Concepts
Learn new concepts in business model innovation, open innovation strategies, and how to apply lean startup models in a corporate context.
Identify Key Business Opportunities
Uncover your current business model's strengths and weaknesses while learning to use open innovation to identify new opportunities. Rethink existing strategies to capitalize on organizational innovation and strategic change.
Create New Business Model Ideas
Generate and validate potentially successful new business model designs. Complete the training with a personalized, fully-developed portfolio of lean, go-to-market plans.
Overcome Roadblocks and Manage Complex Change
Align company strategy and business politics with lean methodologies, restructure your teams, recognize and overcome internal "innovation killers", and transform your innovation process to get breakthrough products to market faster.
Make New, Powerful Connections
Learn to create new relationships and collaborate effectively with startup firms, internal entrepreneurs, and potential partners.
Three-day business innovation program at UC Berkeley Haas School of Business campus 
World-renowned Berkeley Haas Faculty-led program
Dynamic hands-on exercises 
Develop a lean, go-to-market plan for your company throughout the training
Exclusive networking reception with faculty and fellow participants
Access to the program alumni community 
Corporate Business Model Innovation Program Certificate of Completion 
Senior-level Managers
Chief Marketing Officers (CMOs)
Chief Innovation Officers (CIOs) 
Business Strategy and Development professionals
Research & Development (R&D) professionals
Any executive responsible for managing innovation within their company
A group of colleagues or team who would like to advance their skills together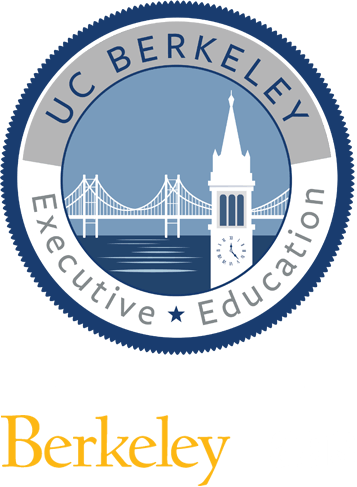 This program counts toward a
Certificate of Business Excellence
Pillar(s)
Entrepreneurship & Innovation or
Finance & Business Acumen
Participants in the Certificate of Business Excellence (COBE) program will earn a mark of distinction from a world-class university, gain access to a powerful global network, and enjoy the flexibility of completing the program in up to three years. A UC Berkeley Certificate of Business Excellence allows individuals to create a personal learning journey structured by our four academic pillars to gain management essentials in Leadership, Entrepreneurship, Strategy, and Finance to drive both personal and organizational development.
"Our group from Brazil decided to attend the first edition of this course at UC Berkeley not only because of the outstanding professors, but also because of the UC Berkeley excellence. It was a great experience for all of us. We strongly recommend it."
- CEO, Clear Educação e Inovação
"The combination of openness and randomness led to the creation of a fabulous team comprising ARM, Intel, VMWARE And Telefonica. Such a unique team ... allowed me to test my business (model) hypothesis with some of the best! Keep up the good work Berkeley-Haas!"
- Director of Corporate Development, ARM Limited
"The course provided useful content - especially using the tools and teachings on practical work situations!"
- Program Participant, October 2015
"I enjoyed the program. I would like to put into practices all materials discussed in class."
- Program Participant, October 2015
"I have participated in several courses here and I always go back to my company with skills I can implement immediately and the long term impact has been valuable to both myself and my company. I am sure I will have similar results after this course."
- Program Participant, October 2015
Henry Chesbrough
,
Adjunct Professor | Mike and Carol Meyer Fellow, Haas School of Business
Henry Chesbrough is Faculty Director of the Garwood Center for Corporate Innovation within the Institute of Business Innovation at the Haas School of Business at UC Berkeley. Previously, he was...
Andre Marquis
,
CEO, Hypershift
Andre Marquis is the former Executive Director of the Innovation Acceleration Group at the University of California Berkeley. He and his team have built a scalable, global infrastructure to deliver...
Open Innovation for Leaders
Innovation management program to identify new opportunities, develop a competitive advantage. Learn from esteemed Father of Open Innovation, Henry Chesbrough.
The Innovative Organization
A fresh take on corporate innovation that prepares managers and leaders to embrace the challenges and opportunities of creating a truly ambidextrous, innovative organization. Tapping into the expertise of distinguished Haas faculty, as well as prominent Silicon Valley executives, this five-day program will inspire and motivate you to truly start building your "innovative organization."   Innovativ...
Have more questions about registration, billing, accommodation, or employer support?