Communications Excellence
Communications Excellence

Leadership and communication are imperative for today's executive. Whether it be in meetings, town halls, or presentations, the day-to-day of a modern business leader is enmeshed with moments of interpersonal communication. The Communications Excellence program equips you with a guidebook on effective communication that will activate your inner confidence as a leader and empower you to influence business. Throughout this communication skills training, you will discover the importance of communication skills and its relationship to powerful leadership, which will empower you to ditch your fear of public speaking and develop your presentation skills.
Transcend elemental business communication to excel as a business leader and deliver palpable results. 
Join us at the Berkeley Haas campus for our 2-day in-person training or choose the flexible Exec Ed Lab; a virtual 3-day learning experience that maximizes interaction and collaboration with faculty and groups - wherever you are. 
Evolve Your Personal Communication Style
Develop personal success strategies to advance business communications uniquely suited to you and your business. Build effective communication skills to use together with active listening.
Interact with Clear Intent
Identify your business goals and learn how to tailor your communications through verbal, nonverbal, or communications tools, such as presentations and PowerPoint, to deliver results.
Establish Your Confidence and Leadership Presence
Leverage your breath, body, and voice to maximize your impact and presence during your business communications and presentations. Through excessive practice, you will master how to seamlessly integrate each element of effective communication.
Craft and Deliver a Truly Memorable Pitch
Learn how to create a memorable pitch that articulates your message and connects your audience with a message that is authentic, clear, and powerful.
Master Advanced Presentation Skills
Recognize when something is not working and know instantly how to fix it by making internal and external adjustments based on high-level skills you rehearse and practice.
Download the program topics & sample schedule
Senior leadership executives and high-potential professionals in Business Development, Sales, and Marketing Teams
Professionals in leadership roles at Nonprofit and Service Organizations
Web Developers and Engineers 
Entrepreneurs seeking to develop profound leadership communications skills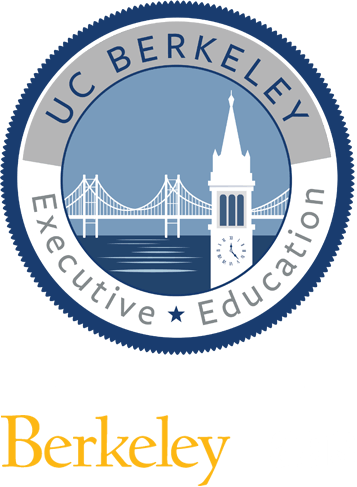 This program counts toward a
Certificate of Business Excellence
Pillar(s)
Leadership & Communication
A UC Berkeley Certificate of Business Excellence gives individuals the opportunity to create a personal plan of study structured by our four academic pillars. Participants will earn a mark of distinction with certification from a world-class university, and enjoy the flexibility of completing the program in up to three years.
"Opened up new doors for me that I didn't know existed."
- Senior Executive, Salesforce
"It was amazing to watch the transformations and progress in each participant's presentations. Everyone came so far!"
- Program Participant, 2015
"Richard, Penny & Adam are an amazing set of instructors."
- Program Participant, 2016
"There was more than just the art of the pitch that I learned. Faculty was amazing! Thank you!"
- Program Participant, May 2014
"I also enjoyed the diverse uses of the material; this course is much more than just the pitch. It touches on leadership, communication, and audience control."
- Program Participant, October 2014
Adam Leipzig
,
Lecturer, Persuasive Communication & Interpersonal Dynamics
Adam Leipzig is an expert at bringing media industry smarts to diverse companies worldwide, and coaching senior executives how to shine in front of their boards, investors, teams, and customers. As...
Penny Kreitzer
,
Professional Faculty Member, Haas School of Business
For the past 30 years, Penelope (Penny) Kreitzer has worked as a communications consultant, executive coach and master voice coach in the corporate, academic and theater/film industries. Ms. Kreitzer...
Richard Freishtat
,
Vice President of Curriculum, Berkeley Executive Education
Dr. Richard Freishtat serves as Vice President of Curriculum at Berkeley Executive Education, where he drives the design and delivery of the range of programs across the Executive Education portfolio...
Negotiation and Influence
Learn how to influence, build your confidence, and become a successful negotiator in this three-day program. The Negotiation and Influence program is an intensive, interactive three-day program that will help you develop strategies to effectively plan and prepare for negotiations, and show you how to increase your power and influence while maintaining positive relationships. Through a series of ch...
New Manager Boot Camp
Build confidence & rapport with new manager training. Embrace your strengths & learn to align, prioritize & solve complex challenges & discover opportunities.  
Product Management
Optimize your product strategy and customer-focused design thinking in the Product Manager program, an immersive five-day experience. The Product Management Certificate Program combines the latest in Design Thinking with the best of the Berkeley Haas MBA program, to prepare you for your dual role: General Manager of your product line, and Product Designer creating products and services your custom...
Have more questions about registration, billing, accommodation, or employer support?