Product Management
The Product Management Certificate Program is a five-day, immersive, in-person training experience. Before you arrive, we include a six-week online component (set aside about two hours per week for this), including customized video lectures and readings, discussions with your new classmates, colleague surveys, exercises, and a simulation game.
The program combines the latest in Design Thinking with the best of the Berkeley-Haas MBA program, to prepare you for your role: understanding your customers' environment and needs, designing customer experiences, boosting your team's performance, and mobilizing your organization to take action and develop a competitive advantage. 
Dr. Sara Beckman, who has led the program since 2006, continually updates the training program to reflect the latest research and industry best practices. Along with all program faculty, she maintains a consulting practice, to stay up-to-date on current issues facing product managers and companies like yours.
Master Business Model Communication
Effectively communicate, to any audience, a comprehensive business model for your existing business, as well as for product extensions and new lines of business you wish to create. The training leverages the Product Management Canvas as the primary framework.
Optimize Product and Product-Line Profitability
Create pricing tools and systems ideal for your product portfolio and learn a systematic methodology to allocate scarce resources among products to optimize product profitability.
Improve Your Management Capabilities
Learn how to effectively manage your cross-functional team even when you lack direct authority and or in remote work situations.
Speak the Language of Senior Management
Hone your negotiation skills and effectively communicate as a product owner with the appropriate decision-makers and stakeholders to get your product management ideas implemented.
Transcend Day to Day Firefighting and Drive Strategy
Gain effective methods for driving product decisions without succumbing to the "tyranny of the inbox".
Go Deeper for More Transformational Ideas
Harness the latest customer-centric frameworks to gain deeper insights. Integrate market feedback to drive innovation and build differentiated products and services.
Interested in attending the online version of this program? Click here.
Want to learn about the other suite of offerings from Berkeley Product Management and its past participants? Learn More.
Five-day in-person program at UC Berkeley Haas School of Business campus 
Six weeks of online content prior to the intensive in-person week (set aside about two hours per week for this). This includes customized video lectures and readings, discussions with your new classmates, colleague surveys, exercises, and a simulation game. 
World-renowned Berkeley Haas and Executive Education Faculty  
Training from industry experts in design thinking, customer-focused design & insights, competitive strategy, business model generation, influence without authority, team management, and pricing
Organization-specific Innovation Capabilities Report 
Hands-on exercises and simulations to ensure that knowledge gets put to work in your organization
Peer coaching from industry experts that have complementary backgrounds to yours 
Exclusive networking reception with faculty
Access to the program alumni community
Product Management Certificate of Completion 
Product Managers, Directors and Vice Presidents of Product Management
Project and Program Managers
Engineers looking to move into or interfacing with Product Management
General Managers who manage product portfolios and corporate strategy
A group of colleagues or team who would like to advance their skills together
Want to approach your employer about professional development and request employer support? Read the Employer Payment Assistance Guide.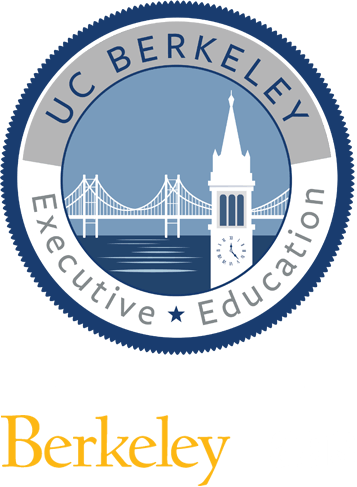 This program counts toward a
Certificate of Business Excellence
Pillar(s)
Strategy & Management or
Entrepreneurship & Innovation
Participants in the Certificate of Business Excellence (COBE) program will earn a mark of distinction from a world-class university, gain access to a powerful global network, and enjoy the flexibility of completing the program in up to three years. A UC Berkeley Certificate of Business Excellence allows individuals to create a personal learning journey structured by our four academic pillars to gain management essentials in Leadership, Entrepreneurship, Strategy, and Finance to drive both personal and organizational development.
"An amazing learning experience. I gelled incredibly well with ... my team and made close friends. I feel more prepared than ever for my duties as a Product Manager. I didn't do my MBA at Haas, but this would be the closest thing."
- Product Manager, FileMaker Inc.
"The program was a fantastic experience that was well worth the investment. This course will make a difference!"
- Product Line Manager, Chevron Corporation
"The program logistics were top notch and the instructors were amazing. In just a few days, they covered all the topics relevant to product management, provided foundational principals, technologies, and examples, and introduced academic and industry references."
- EVP Engineering, ByAllAccounts
"The UC Berkeley Product Management Program was a big wake-up call for me. It was the refresher I needed and has been invaluable in my recent jump from a big corporation to a startup. I'm already incorporating everything I learned into my new position."
- VP Operations, Osterhout Design Group
"UC Berkeley's Product Management Program completely transformed my ideas for how I will approach our new products."
- Product Manager, The Christian Science Monitor
Customer Obsessed Design for Product Management
Using the tools of customer-centered design, ethnography and storytelling, you will learn how to conduct successful customer interviews, extract important customer insights from those interviews, share those insights with key stakeholders in your company, and galvanize action around those insights. In Customer Obsessed Design for Product Management,  you will learn how transformative customer expe...
Negotiation and Influence
Learn how to influence, build your confidence, and become a successful negotiator in this three-day program. The Negotiation and Influence program is an intensive, interactive three-day program that will help you develop strategies to effectively plan and prepare for negotiations, and show you how to increase your power and influence while maintaining positive relationships. Through a series of ch...
New Manager Boot Camp
Build confidence & rapport with new manager training. Embrace your strengths & learn to align, prioritize & solve complex challenges & discover opportunities.  
Have more questions about registration, billing, accommodation, or employer support?